PLEASE NOTE: We are not currently taking any additional bookings for The Doodle Bar.
The Doodle Bar is a live illustration, pop up booth. Melissa, the illustrator, draws each guest individually and provides them with a cute and quirky keepsake of your day. It's the perfect way to keep guests entertained and provides them with personalised, special favours too.
Melissa and her assistant will invite your guests to be drawn. We'll make sure they know what we do and before long, word spreads and so does the excitement! Melissa hand draws each portrait from scratch, either digitally or with watercolours, depending on your preference.
Our standard party package is for 30 portraits (that's 30 people!) and takes around 5 hours. Every additional 10 portraits takes around an hour and a half to complete and you may book for up to 60 guests!
Scroll down for a full list of FAQ's, reviews, photos and price list!
Photography by hollyrose.co.uk
To see the digital portrait gallery from past weddings, click here.
How long does it take you to draw each one?
---
A portrait of a couple takes around 15 minutes. Each person is drawn from scratch and I include details like hair accesories and clothes patterns too!
---
Is my date available?
---
Please complete the booking form and either myself or my assistant will reply as soon as we can to confirm!
---
Can all my guests be drawn?
---
It depends on your party size! The maximum number of portraits Melissa is able to draw in a day is 60 (meaning The Doodle Bar is with you almost the whole day and night - woooo!) Many people worry about guests missing out if they have a larger party size, however we have never found this to be a problem on the day. Some people choose to assign the portraits to certain guests (e.g the immediate family or wedding party). Others let the spaces fill on a first come, first served basis. When this is the case, the most keen will gravitate towards The Doodle Bar first! Then, once booked up, there's an option for any remaining guests to book to be drawn after the event. People are in high spirits at weddings and events and are always super lovely if they don't grab a slot!
---
Is your party package 30 pictures or 30 individuals?
---
'30 Portraits' means 30 individuals. Perfect to accomodate the wedding party and your closest family. However, you may book up to 60 portraits/individuals to be drawn.
---
When do you arrive?
---
We will arrive 45-30 minutes before your booking to set up. Set up and set down is fully included in the price. Any additional standing time will be charged at £75p/h so please make sure you give us an accurate start time. We highly recommend starting immediately after the ceremony. Not only does this mean your guests can enjoy The Doodle Bar for longer, it also means we can set up whilst everyone is tucked away!
---
What's the difference between digital and hand painted?
---
Digital portraits are created on the iPad. This is how Melissa primarily works to illustrate. The portraits are then printed immediately and each guest receives their portrait straight away. The benefits to digital portraits are that these can be viewed by you and all guests after the event in an online gallery we will provide. You will also be provided with copies via email to print or store forever! See the digital portrait gallery here. Hand painted portraits are created with fineliners and watercolours. They are one off pieces and we are unable to provide copies of these.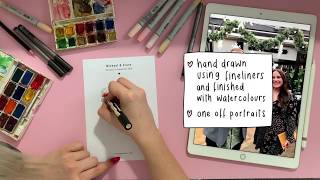 Below are examples, the bolder illustrations on the left are digital, on the right is hand painted.
---
When do I need to book?
---
As soon as possible. Dates get filled quickly so please get in touch with your interest so we can confirm that slot for you!
---
What package do you recommend?
---
We recommend a 40 or 50 portrait package. This ensures the majority of your day guests are drawn, such as the wedding party, close friends and immediate family. It also means we will be with you for 7-9 hours!
---
How long do you stay at the event?
---
On average, we're at an event for 7-8 hours! Melissa takes pride in each and every portrait and will only pack up once each one is completed perfectly.
---
Do you need food supplying?
---
For bookings of 40 portraits or more, yes please! Due to the number of hours we work on the day as well as the locations of many weddings, we do ask for food to be supplied. We don't expect a slap up 3 course dinner - a sandwich or similar would be lovely and super appreciated!
---
How will it work on the day?
---
We will arrive 30-45 minutes prior to your given start time to set up. We will require access to a plug and two chairs please! Then, we will invite your guests to be drawn. We'll make sure they know what we do and before long, word spreads and so does the excitement! Melissa's assistant will take photos of guests to draw from, this way they can still mingle and pop over to watch as and when they'd like to. Melissa hand draws each portrait and once completed these are displayed on The Doodle Bar ready to be collected by guests.
---
---
More available on the Mellow Doodles Facebook page.